A new and charming venue has been found for the Crop Circle Exhibition & Centre 2017 at The Barge Inn at Honeystreet near Alton Barnes, Wiltshire.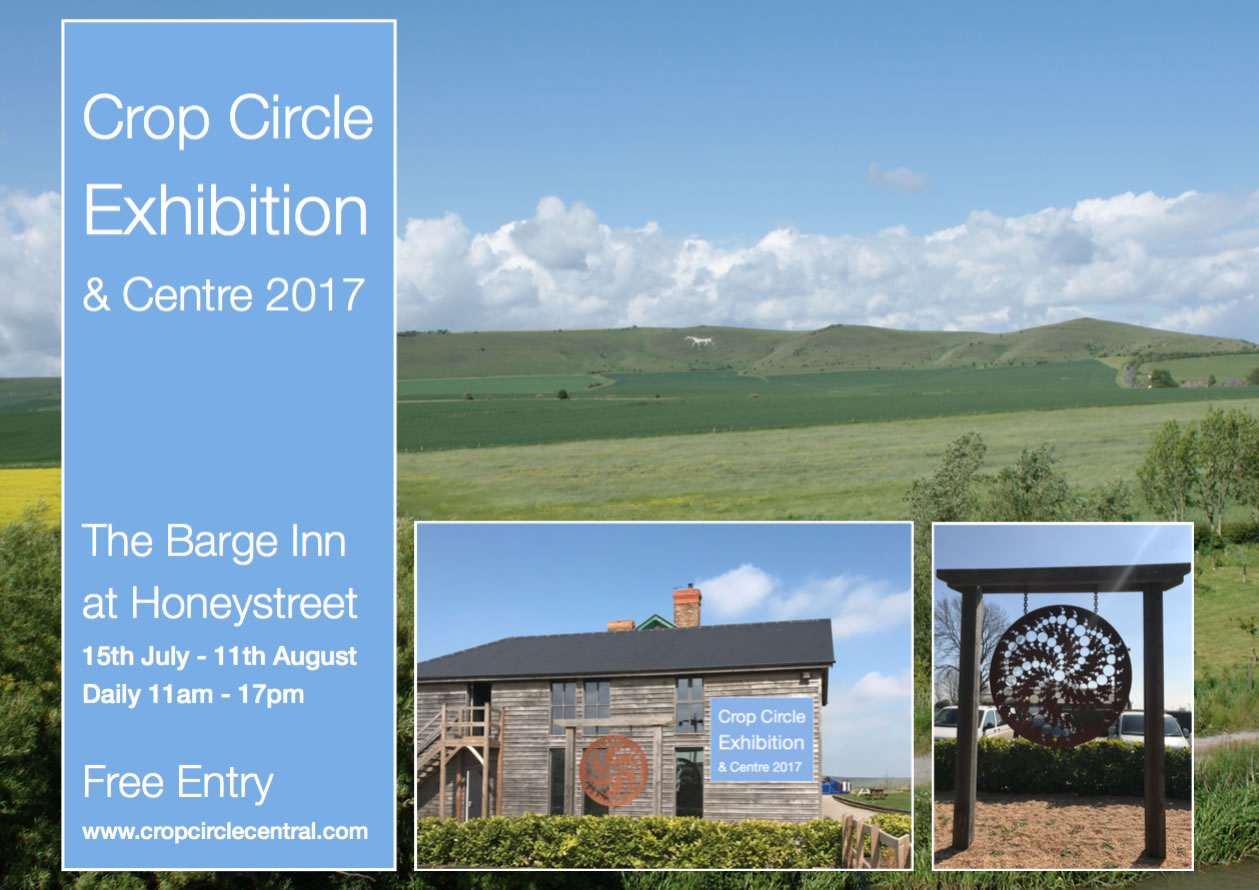 The multi-media exhibition, initially created for the Wiltshire Museum in 2014 and later shown at St. Peter's Church in Marlborough, will be on display from 15th July till 11th August 2017 (daily 11am – 5pm, free entry). Attached to the exhibition will be the Crop Circle Centre, where people can hear the latest crop circle news and enjoy a range of homemade and organic refreshments.
The exhibition features the key facts of crop circle phenomenon and mixes it with stunning photography and footage. As the Barge Inn and its surrounding area have a long and colorful crop circle history, a special topic on this will be included in the coming exhibition.
The new Italian landlords of The Barge Inn, Pietro and Barbara Cuomo, recently decided to dedicate a part of their home in the converted Barn to host the Exhibition & Centre. On the garden-terraces, visitors can enjoy a wide range of delightful refreshments with an Italian touch. Besides traditional English dishes, homemade Italian food will be on the menu, along with Italian wines from the new wine-bar, lovely Italian coffees, organic ice-cream and healthy fruit smoothies.
The Barge Inn has a world-wide reputation for being the annual meeting place for crop circle tourists, fans, enthusiasts with all kinds of views and opinions about what crop circles are, how they form and who or what makes them.
The team of the Barge Inn and the team of Crop Circle Exhibition & Centre, hope to welcome old and new 'croppies' to this special and historical place, to see the exposition, to hear the latest crop circle news, get inspired, relax, eat, drink, discuss and meet.
Looking forward to meet you in the summer.
Monique Klinkenbergh and Andreas Müller, Exhibition & Centre Pietro and Barbara Cuomo, The Barge Inn
Crop Circle Exhibition & Centre 2017 Open: 15th July – 11th August 2017, Daily 11am – 5 pm The Barge Inn, Honeystreet, Pewsey SN9 5PS, UK info@cropcirclecentral.com
www.cropcirclecentral.com