Ni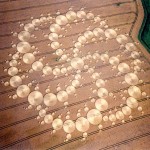 ghts of Crop Circling, The Long Versions, featuring Roeland Beljon
For the past 6 years, we have been doing "A Night of Crop Circling" in the middle of the crop cirlcle season. Every time we had 6 speakers that could do a talk of just 20 minutes. Now, in these dark times we decided to lighten life up a bit by giving these speakers the chance to do a full lecture. Crop Circles are a welcome distraction from the madness of the world we live in.
Th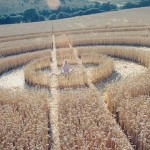 e chase goes on
Roeland Beljon has been visiting crop circles together with his life partner Nancy Polet since 1994. In all these years he documented many of them, using measuring tapes, cameras, pen, paper and questionaires. He has experienced some remarkable events, both in the UK and the Netherlands which he will share in his presentation. Roeland has contributed to research of others and he has his own opinion on the outcome. Through the years his view on the phenomenon and how it should be researched (if at all) has changed. Looking back, Roeland sees that his life turned out very different than it would have without the crop circles. He has traveled much further down the rabbit hole than he ever would have imagined.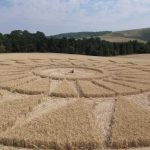 The 2020 Season
Roeland will start by quickly showing the crop circles from last season. Even though it was a very strange year for crop circling, we were blessed with a fair amount of crop circles, some of which were very beautiful. Others seemed to be closely related to current events. And there was some actual crop circle chasing involved…
27 years
In his talk Roeland will show what 27 years of crop circling has been like, what adventures it brought as well as life changes. He will share the experience of a real circle chase. He will also show how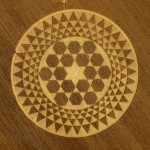 the way crop circles are found changed through the years and the way crop circles are photographed, and how technology does not bring us any closer to the truth. He will show many great pictures of crop circles which is a treat for crop circle enthusiasts. Furthermore he will talk about how the view on crop circles changed through the years especially for farmers and last but not least for himself.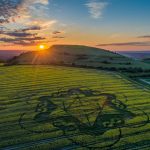 Ghosts
A small section of the lecture will be dedicated to one of the most intriguing features that can only be found in some crop circles, the ghost formations. Ghosts are a dead give away for a crop circle to be a product of the genuine phenomenon. But there are several forms of ghosts and not all of them are equally special.
Roeland Beljon
Roeland is a sociology major and works in the field of mobility management and environmental consultancy. He has been chairman of the Dutch Centre for Crop Circle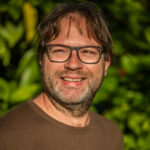 Studies since 2011 and an active member since it was founded in 1995. Together with his partner Nancy Polet he has been visiting the crop circles every year since they discovered their first one next to Silbury Hill in 1994.
In 2010 Roeland and Nancy founded Sky High Creations and together they have organised many lectures and workshops and symposia on frontier sciences and spiritual growth. Every summer, they organise "A Night of Crop Circling" in Alton Barnes, right in the middle of crop circle country, Wiltshire UK. Since politics in the world changed in march 2020 they turned to zoom as their main venue which has the advantage that the whole world can participate now.
Programme (CET, Central European Time, Amsterdam)
7.40 pm CET: zoom meeting opens
8.00 pm CET: start
9.30 pm CET: questions
10.00 pm CET: zoom meeting ends
Registration
If you want to attend this on-line lecture, send us an e-mail at info@skyhighcreations.nl entitled "The Chase goes on". Transfer € 15,– pp to NL78 ABNA 0467074526 to R.J. Beljon (BIC Code: ABNANL2A). After payment we send you the link to the zoom meeting in due time (usually a day prior to the lecture). You can log on from 20 minutes before the lecture starts. If you don't have zoom installed just yet, this link will automatically install it for you. If you have never used zoom before, install it well before the lecture and log on early. If you run into trouble call us at +31 (0) 6 54752559.
Payment from outside The Netherlands
To receive payment from abroad, we use paypal. Send an e-mail to info@skyhighcreations.nl and we will send you a Paypal invoice.
Newsletter

If you want to receive our Dutch newsletter, please subscribe here:
nieuwsbrief
.
If you want to be on the international mailing-list, send an email to info@skyhighcreations.nl
Or give us a call: +31 (0) 6 54 752 559.