This Journey is organized by Petra and Annemarie Veltman from 19th to 26th of October 2017 in Egypt with special guest Nancy Polet. If you resonate with Goddess Sekhmet and her powerful energy, this Journey is for you!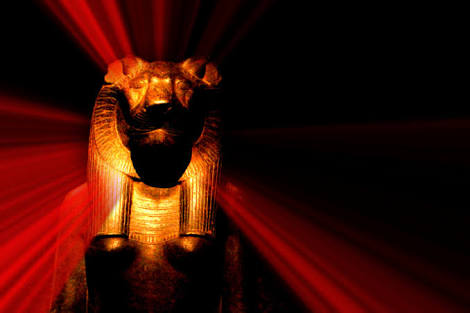 Programme:
Day 1 (Thursday 19th October): Arrival Day
Arrival at Cairo airport & transfer to Mercure Sphinx Hotel, Gizeh
21.00pm We gather for our Introductory Group Meeting, to begin making our connections with each other and to set the energy for our journey
Day 2 (Friday 20th October): Ancient City Of Memphis, Saqqara Pyramids, Lecture Nancy Polet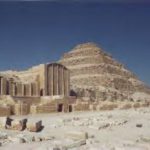 8.00am After breakfast, we will visit the Ancient city of Memphis, the city of God Ptah (Triad of Memphis) and the capital of the Old Kingdom, Open Air Museum and the Colossal statue of King Ramses II. We will proceed to visit one of the most important sacred areas in the Band of Peace – Saqqara
13.00pm Lunch at a beautiful local restaurant tasting the flavours of Egyptian cuisine
16.00pm Lecture "When Sekhmet Becomes Alive" by Nancy Polet at Sphinx Mercure Hotel
18.30pm Diner at the Hotel and enjoy a free evening or
*Optional Sound & Light show at the Pyramids and Sphinx
Day 3 (Saturday 21st October): Egyptian Museum, Pyramids of Gizeh, Workshop 'Elixer' at Gizeh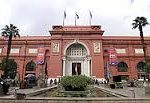 08.00am After breakfast we will depart to visit the Egyptian Museum of Antiquities that houses a magnificent collection of Pharaonic antiquities, golden treasures of Tut Ankh Amun and statues of Sekhmet
12 noon Visit to Pyramids of Gizeh, we'll go inside Cheops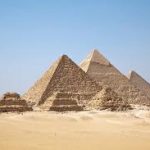 14.00pm Lunch at a Restaurant, overlooking Gizeh plateau
16.00pm We arrive at The Perfume Palace where we'll have a workshop to make a group "Elixer" to guide us during our sacred journey
7.30pm Diner at the Hotel and evening free
Day 4 (Sunday 22nd October): Departure to Luxor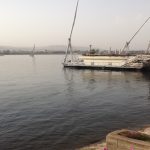 07.30am After breakfast Departure to the airport for Luxor
10.45am Flight to Luxor and check in at the Mercure Karnak Hotel. Grounding in the garden along the River Nile
13.00pm Lunch at a Restaurant in Luxor
15.00pm Departure to Luxor Temple, one of the most important temples of Ancient Egypt and we'll connect with its ancient energies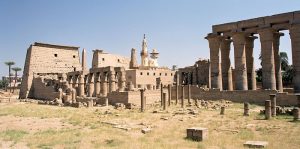 19.30pm Diner in Hotel and Group Sharing Circle
Day 5 (Monday 23rd October): East Bank "Karnak Temple"
08.30am After breakfast, we will visit the Karnak Temple, Sekhmet's Shrine, Open Air Museum and the Door of the Seven Heavens
1.30pm Lunch in the city
Optional in the afternoon: Return to Karnak Complex where you have free time till we meet at the Sacred Lake at 4pm for group gathering or we depart back to our hotel and integrate the powerful 'Sekhem' energy
19.00pm Diner in the Hotel. Evening free or

*Optional Sound & Light show at Karnak temple
Day 6 (Tuesday 24th October): East Bank: "Mut Precinct and Sacred Lake and Luxor Museum"
08.30am After breakfast we go to Mut Precinct with it's Sacred Lake
Mut is the consort of Amun-Ra, the male Neter to whom Karnak is dedicated. She is the quintessence of the Divine Feminine, the Mother. Intimately connected with Sekhmet; it's possible that in the very ancient past, they were one and the same. We'll have time to wander among the many powerfully palpable statues of Mut
11.30am Luxor Museum
13.30pm Lunch in the city
3.30pm Visit the Souq, enjoy a drink at one of the local pubs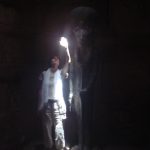 18.30pm Diner in the Hotel
20.00pm Lecture "Sekhmet's Statues Unearthed" by Annemarie Veltman in the Mercure Karnak Hotel, the story of many Sekhmet's statues found at the Great Funerary Temple of Amenhotep III
Day 7 (Wednesday 25th October): West Bank: Colossi of Memnon, Medinat Habu Temple (optional Valley of the Kings/Queens – Hatshepsut)
08.00am Breakfast at hotel and we depart for the West Bank and stop at the Colossi of Memnon where two huge statues are one of the few remaining items of the great funerary temple of Amenhotep III. Recent excavations at the site have also unearthed many Sekhmet Statues
10.00am Visit to Medinat Habu Temple
*Optional sightseeings for the day at the West Bank:
The Valley of The Kings the richest and most fascinating ancient tombs in Egypt. This was the burial site of the kings from the New Kingdom. We can visit some royal tombs in the area
13.00pm Lunch at West Bank
Afternoon, visit to Der El Bahri Temple of Queen Hatshepsut that was constructed during the reign of the 18th dynasty by Queen Hatshepsut, one of the greatest rulers of Egypt. The Temple is carved out of one of the great mountains of Thebes
18.00 Back to the Hotel for Diner. Evening free
Day 08 (Thursday 26th October): Departure to Cairo
09.00am After breakfast we depart to Luxor airport for our departure to Cairo
12.25pm Flight to Cairo
13.30pm arrival at Le Passage Hotel. Check-in for 1 night on BB basis and integration day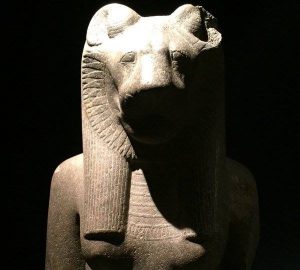 Day 9 (Friday 27th October): Departure back home
———-
The total package price p.p. in a double room Euro 1295,- and a single room Euro 1450,-
It is possible to pay in US$ or in Pound Sterling and to book extra nights before and after the trip. State your preference on the registration form
* This program is subject to change due to conditions beyond our control
The tour includes:
All 5-star hotels as mentioned in the program: 03 nights Mercure Sphinx Hotel in Cairo,1 night BB and 2 nights HB, 04 nights Mercure Karnak Hotel in Luxor HB, 01 night Le Passage Hotel in Cairo BB.
All rooms are equipped with coffee tray facilities
All lunches during the tour except for 19th and 26th October
All transportation by bus, transfers upon arrival and departure and domestic flights Cairo-Luxor-Cairo by air-conditioned tourism vehicle
(Free shuttle bus from Le Passage Hotel to the airport on 27th October available)
All site entrance fees and the workshop fees as mentioned in the program and our guide will assist during the entire tour
Domestic tickets from Cairo/Luxor/Cairo
Meet and assist at the airport upon arrivals and departures for international and domestic flights including baggage handling at airport and hotels
Be advised that we will have one group transfer from the airport to the hotel on the 19th arrival date. If your flight is not at the specific time of our group transfer, please notify and arrangement can be made for a private transfer to your hotel (at extra cost)
Special Highlights:
English-speaking Egyptologist Tour Guide
Presentation by Nancy Polet "When Sekhmet Becomes Alive"
Presentation by Annemarie Veltman "Sekhmet Statues Unearthed"
'Sekhmet Elixer' Workshop at Perfume Palace
Meditations at Sacred Sites
Optional Tours: Sound & Light Show at the Pyramids, Gizeh and Sound & Light Show at Luxor Karnak Temple, Valley of the Kings/Queens and Hatshepsut Temple
Not included:

Roundtrip international airfare to Cairo, Egypt
Travel & Health Insurance
Egypt Tourist Visa, available upon arrival at the airport at Bank desk before entering passport control. Passport must be valid for 6 months after the date of the tour
Your contribution of Euro 50,- p.p. for tips for the entire tour. People who assist the group during the tour, will be provided with a tip, plus tips for meditations at sacred sites
Lunch meals not included on the 19th and 26th of October
Bottled water and drinks during the day and during lunch and diner
Extra services or items not mentioned (laundry, internet, telephone bills, minibar)
Extra sites or mileage not mentioned
Optional tours plus transport and entrance fees
Personal expenses (souvenirs etc.)
Registration ends on September 15th 2017.