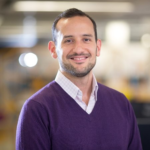 We have all experienced that sensation described as "I've seen this before…" to varying degrees of emotionality. Whether it was triggered by "a glitch in the matrix", or an old and forgotten memory, there's more to it than we think. Come and learn all about past lives, past memories and the déjà vu experience with Joel from the International Academy of Consciousness (IAC), who will discuss this in detail, and explain the mechanics behind such feelings and memories, in a short and fascinating talk.

The IAC is an education and research organisation dedicated to investigating the nature of consciousness. They do this through the exploration of human exceptional experiences such as the out-of-body experience (astral travel or astral projection), clairvoyance, expansion of awareness, extra-sensory perception, channelling, near-death experience, energy healing, and other psychic phenomena. The IAC researchers and instructors share knowledge and teach subtle energy and astral travel techniques to empower everyone to seek their truth by themselves. In their courses they endeavour to deliver the most accurate and updated knowledge, in an unbiased way. They seek to continuously examine psychic phenomena and expand their body of knowledge in a transcendental yet down-to-earth manner.
Programme (CET, Central European Time, Amsterdam)
7.40 pm CET: zoom meeting opens
8.00 pm CET: start
9.30 pm CET: questions
10.00 pm CET: zoom meeting ends
Registration
If you want to attend this on-line lecture, send us an e-mail at info@skyhighcreations.nl entitled "Déjà Vu". Transfer € 15,– pp to NL78 ABNA 0467074526 to R.J. Beljon (BIC Code: ABNANL2A). After payment we send you the link to the zoom meeting in due time. You can log on from 10 minutes before the lecture starts. If you don't have zoom installed just yet, this link will automatically install it for you. If you have never used zoom before, install it well before the lecture and log on early. If you run into trouble call us at +31 (0) 6 54752559.
Payment from outside The Netherlands
To receive payment from abroad, we use paypal. Send an e-mail to info@skyhighcreations.nl and we will send you a Paypal invoice.
We hope to see you in our zoom-meeting on Friday May 27th.
Nancy Polet LLM and Roeland Beljon
Newsletter

If you want to receive our Dutch newsletter, please subscribe here:
nieuwsbrief
.
Or give us a call: +31 (0) 6 54 752 559.