Nights of Crop Circling, The Long Versions, featuring Dan Vidler
For the past 6 years, we have been doing "A Night of Crop Circling" in the middle of the crop cirlcle season. Every time we had 6 speakers that could do a talk of just 20 minutes. Now, in these dark times we decided to lighten life up a bit by giving these speakers the chance to do a full lecture. Crop Circles are a welcome distraction from the madness of the world we live in.
Dan Vidler
Dan Vidler has been investigating and photographing the interiors of crop circles since 2003, documenting the finer details within the laid crop and reporting on significant features at ground level. Close inspection of laid stems and details within formations often reveals unique, surprising and mysterious aspects of the phenomenon, reflecting the beauty and majesty seen from an aerial perspective but which might go unnoticed to all but the keenest observer.

Investigating the Details Within Crop Circles at Ground Level
"Having investigated the interiors of crop circles for 18 consecutive seasons, visiting many formations each summer, my understanding of this phenomenon has moved further and further from any definitive 'answer' or even theory about the possible origins of these incredible patterns which continue to delight and mystify us. With each passing year, however, I feel increasingly certain that a large proportion of them are not and simply cannot be made by groups of people stomping around in dark fields with planks of wood.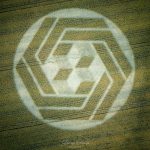 The evidence I present as I document the details within crop circles is far from conclusive, but I believe that, at the very least, it reveals another layer of magic present in the creation of the formations; another element which, like the wonderful geometry, accuracy and sheer beauty of nearly every crop circle, cannot be explained.
The fine details, which often remain unseen, are not only intriguing but spark curiosity and raise the ever rhetorical question: How can that be possible?
To be clear from the outset, this presentation will not answer that question, but many remarkable examples from crop circles over many years' research might just make all of us ask it again!"
Dan Vidler
In this lecture, Dan will give an overview of the best features he found in all of his nearly 20 years of investigating crop circles.
Programme (CET, Central European Time, Amsterdam)
7.40 pm CET: zoom meeting opens
8.00 pm CET: start
9.30 pm CET: questions
10.00 pm CET: zoom meeting ends
Registration
If you want to attend this on-line lecture, send us an e-mail at info@skyhighcreations.nl entitled "Dan Vidler". Transfer € 15,– pp to NL78 ABNA 0467074526 to R.J. Beljon (BIC Code: ABNANL2A). After payment we send you the link to the zoom meeting in due time. You can log on from 20 minutes before the lecture starts. If you don't have zoom installed just yet, this link will automatically install it for you. If you have never used zoom before, install it well before the lecture and log on early. If you run into trouble call us at +31 (0) 6 54752559.
Payment from outside The Netherlands
To receive payment from abroad, we use paypal. Send an e-mail to info@skyhighcreations.nl and we will send you a Paypal invoice.
Newsletter

If you want to receive our Dutch newsletter, please subscribe here:
nieuwsbrief
.
Or give us a call: +31 (0) 6 54 752 559.