T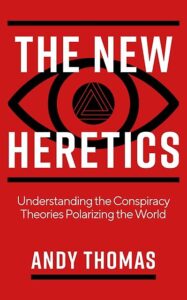 he New Heretics
Andy's latest book The New Heretics highlights serious issues with the way that freedom of expression and choice is being destroyed by an establishment that seems to believe suppression actually changes people's minds – when it doesn't. The pandemic and the many different polarised responses to it, along with other contentious recent events, has revealed serious divisions in who we trust and what we believe, fostering a suspicion once again that fear is being used to control populations. But with everyone fighting their corners, both mainstream and alternative, it is easy to fall into hatred and oppositional thinking that help no one. Based on his own experiences with researching conspiracies and the paranormal, Andy looks at how we can approach different opinions to our own in ways that are more constructive, and which could make a real difference to the way truth seekers pursue their causes.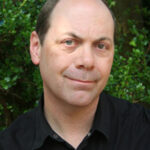 Andy Thomas
Andy is a leading researcher into mysteries and cover-ups and is the author of The New Heretics as well as the acclaimed The Truth Agenda and Conspiracies, all widely praised for providing real and balanced insights into conspiracy thinking and paranormal research. His many other books include Vital Signs and An Introduction to Crop Circles, seen as definitive guides to the circle-phenomenon. Andy is one of Britain's most prolific lecturers and has also spoken in many other countries. He has made numerous radio and TV appearances. Andy is also founder of Changing Times, which holds events on truth and mysteries, and he is a key organiser of the Glastonbury Symposium, the UK's renowned Alternative Conference, held each year since 1990. More information about Andy Thomas and his work: www.truthagenda.org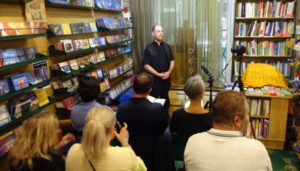 Programme (CET, Central European Time, Amsterdam)
7.40 pm CET: zoom meeting opens
8.00 pm CET: start
9.30 pm CET: questions
10.00 pm CET: zoom meeting ends
Registration
If you want to attend this on-line lecture, send us an e-mail at info@skyhighcreations.nl entitled "The New Heretics". Transfer € 15,– pp to NL78 ABNA 0467074526 to R.J. Beljon (BIC Code: ABNANL2A). After payment we send you the link to the zoom meeting in due time. You can log on from 10 minutes before the lecture starts. If you don't have zoom installed just yet, this link will automatically install it for you. If you have never used zoom before, install it well before the lecture and log on early. If you run into trouble call us at +31 (0) 6 54752559.
Payment from outside The Netherlands
To receive payment from abroad, we use paypal. Send an e-mail to info@skyhighcreations.nl and we will send you a Paypal invoice.
Newsletter

If you want to receive our Dutch newsletter, please subscribe here:
nieuwsbrief
.
Or give us a call: +31 (0) 6 54 752 559.