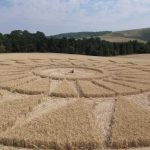 Nights of Crop Circling, The Long Versions, featuring Kathy Mingo
For the past 6 years, we have been doing "A Night of Crop Circling" in the middle of the crop cirlcle season. Every time we had 6 speakers that could do a talk of just 20 minutes. Now, in these dark times we decided to lighten life up a bit by giving these speakers the chance to do a full lecture. Crop Circles are a welcome distraction from the madness of the world we live in.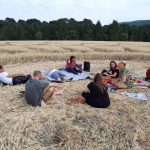 Crop circles and the alchemical relation to rasing our consciousness
Crop circles and their geometry help to teach us that our divine connection is not only aligned to consciousness but also blends a deep alchemical knowledge. The link to conscioussness through sacred geometry is well noted. but the synchronicity that occurs in the crop circle world opens up a more mysterious question…Why are we here and what is our connection to the sacred landscape?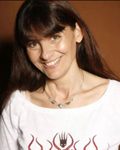 Kathy Mingo
Kathy Mingo is a channel and healer with 20 plus years of working in the field of mediumship/channeling and quantum consciousness. She has clients from around the globe and has a waiting list for appointments now 18 months in advance.
Kathy is co founder of Quantum Inspiration… which is teaching people to access their own beliefs about spiritual progress ect.
Being an avid crop circle enthusiast… Kathy is now in her 19th year of crop circle chasing. https://www.kathymingo.com/
Programme (CET, Central European Time, Amsterdam)
7.40 pm CET: zoom meeting opens
8.00 pm CET: start
9.30 pm CET: questions
10.00 pm CET: zoom meeting ends
Purchase the video
If you want to watch the video of this on-line lecture, send us an e-mail at info@skyhighcreations.nl entitled "Kathy Mingo". Transfer € 15,– pp to NL78 ABNA 0467074526 to R.J. Beljon (BIC Code: ABNANL2A). After payment we send you the link and password to the video. You can watch the video whenever and as many times as you want.
Payment from outside The Netherlands
To receive payment from abroad, we use paypall. Send an e-mail to info@skyhighcreations.nl and we will send you a Paypal invoice.
Newsletter

If you want to receive our Dutch newsletter, please subscribe here:
nieuwsbrief
.
Or give us a call: +31 (0) 6 54 752 559.