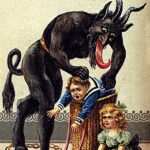 Krampus is scary, Krampus is old, smelly and horrible. He does nasty things – and yet, he is oh, so trendy. Explore the long history of this very European monster who has become a darling in the Folk Horror world.
Especially interesting for Dutch people as Krampus is the handsman of "Sinterklaas", whom was later transformed to Santa Claus or father Christmas in most of the Western world. Sinterklaas, nowadays is only celebrated in The Netherlands and Belgium. For most of the recent history this helper of Sinterklaas was known as "Zwarte Piet", a man in colorful clothing with a black face from climbing up and down the chimneys. There appear to be many similarities between the way Christmas and Sinterklaas are celebrated and the history of Santa Claus and his handsman Krampus. Strangely, the roots of these celebrations lie in Austria, where Santa Claus and his handsman Krampus were first described.
Geraldine Beskin of London's The Atlantis Bookshop enjoyed researching this small piece of folk history that shows a centuries old unbroken line of c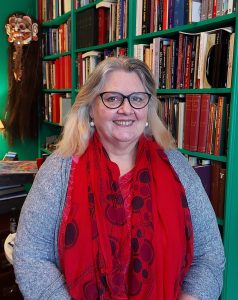 elebration. Her Talk is fully illustrated and she looks forward to hearing of any encounters you may have had with Krampus.
Geraldine comes from a family of magicians and is one of the worlds leading experts on magic. Together with her daughter Bali she owns the worlds best bookshop on magic, The Atlantis Bookshop in London, that was founded in 1922. Her family has been running this mecca of magic for over 60 years. It is an institution in the heart of London, just a stonethrow away from The British Museum in Museumstreet.
Geraldine has been fortunate to know many of the teachers and authors who updated the language and attitudes towards magic and took it from the Medieval and Victorian times through the Swinging Sixties and beyond. As a bookseller, Geraldine has been able to research many subjects in and around the field of magic. Geraldine has many great stories to tell.
Programme (CET, Central European Time, Amsterdam)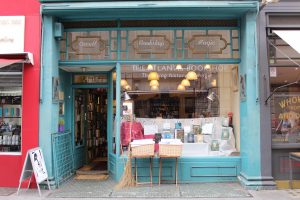 8.20 pm CET: zoom meeting opens
8.30 pm CET: start
10.00 pm CET: questions
10.30 pm CET: zoom meeting ends
Registration
If you want to attend this on-line lecture, send us an e-mail at info@skyhighcreations.nl entitled "Krampus". Transfer € 15,– pp to NL78 ABNA 0467074526 to R.J. Beljon (BIC Code: ABNANL2A). After payment we send you the link to the zoom meeting in due time. You can log on from 10 minutes before the lecture starts. If you don't have zoom installed just yet, this link will automatically install it for you. If you have never used zoom before, install it well before the lecture and log on early. If you run into trouble call us at +31 (0) 6 54752559.
Payment from outside The Netherlands
To receive payment from abroad, we use paypal. Send an e-mail to info@skyhighcreations.nl and we will send you a Paypal invoice.
Newsletter

If you want to receive our Dutch newsletter, please subscribe here:
nieuwsbrief
.
Or give us a call: +31 (0) 6 54 752 559.