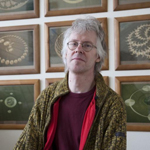 Imagine being immune to all sorts of illusions and lies! With crop circles viewed as stamps placed to mother Earth, Randell will demonstrate how they connect with essential spiritual teachings and resonating energies. As such, they enable us to overcome the world of illusions known as Samsara.
Randell is a visual artist and has been investigating the crop circle phenomenon for many years. Most years he travels to the UK in the summer to visit the crop circles. He takes aerial pictures and regularly publishes articles about crop circles on his website. He also wrote a book in Dutch that is called "Beeldtaal Gewasformaties" and is about the shape of crop circles.
Crop circle shapes
In this lecture Randell will speak about the versatility of crop circles but mainly focus on the shape of crop formations. As a visual artist that is what he knows best. The matter of how these shapes end up in the fields is not that important to him but everyone can draw their own conclusions from the pictures he presents.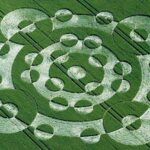 Messages
More important is the decoding of the hidden messages in these intruiging shapes in the fields. The crop circles refer to many different subjects usually in a very refined way. Sublime artistic beauty goes hand in hand with deep scientific insights. Apparently the phenomenon is able to address the latest scientific discoveries and make very accurate statements about it that go even further. You may understand the importance of the crop circle phenomenon in these confusing times of political turmoil, extreme technological development, a corrupt financial system, environmental diasters and now of course the covid crisis. Randell wil explain that everyone can connect personally with the phenomenon.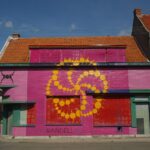 Randell
Randell was born and raised in Sas van Gent in the province of Zeeland in The Netherlands. At the age of 19 he moved to Amsterdam to be part of the squatter movement. A group of activists against capitalism. His art addresses theme's like social injustice, human evolution and the mind. Shapes are very familiar to him. As a child he made paranormal drawings. These drawings turned out to be clsely connected to some crop circles of a few years back. The soul connection that Randell has with the vision of crop circle artists came as no surprise. Throughout his career as an artist Randell was always attracted tot he mystical land paranormal. Seemingly his career that took place outside of society was some kind of school to prepare him to be able to connect to some higher level of spiritual growth.
This is a lecture in the series "Nights of Crop Circling the Long Versions". Randell gave a lecture in 2017 at our "Night of Crop Circling" in Alton Barnes, Wiltshire UK.
Programme (CET, Central European Time, Amsterdam)
7.40 pm CET: zoom meeting opens
8.00 pm CET: start
9.30 pm CET: questions
10.00 pm CET: zoom meeting ends (End time is just an indication)
Registration
If you want to attend this on-line lecture, send us an e-mail at info@skyhighcreations.nl entitled "Randell". Transfer € 15,– pp to NL78 ABNA 0467074526 to R.J. Beljon (BIC Code: ABNANL2A). After payment we send you the link to the zoom meeting in due time (usually a day prior to the lecture). You can log on from 20 minutes before the lecture starts. If you don't have zoom installed just yet, this link will automatically install it for you. If you have never used zoom before, install it well before the lecture and log on early. If you run into trouble call us at +31 (0) 6 54752559.
Payment from outside The Netherlands
To receive payment from abroad, we use paypal. Send an e-mail to info@skyhighcreations.nl and we will send you a Paypal invoice.
Newsletter

If you want to receive our Dutch newsletter, please subscribe here:
nieuwsbrief
.
If you want to be on the international mailing-list, send an email to info@skyhighcreations.nl
Or give us a call: +31 (0) 6 54 752 559.