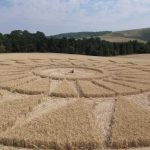 Nights of Crop Circling, The Long Versions, featuring prof. dr. Jerry Kroth Ph.D.
For the past 6 years, we have been doing "A Night of Crop Circling" in the middle of the crop cirlcle season. Every time we had 6 speakers that could do a talk of just 20 minutes. Now, in these dark times we decided to lighten life up a bit by giving these speakers the chance to do a full lecture. Crop Circles are a welcome distraction from the madness of the world we live in. Tonight's talk is by prof. Jerry Kroth. This is his first lecture for Sky High Creations. We felt that because of the importance and urgency of his findings it was only logical to put him in the program.
Can you really be sure all crop circles are fakes?
Dr. Jerry Kroth, Ph.D. wonders if all crop circles may not be human fakes and counterfeits after all. He analyzes three mysterious, intricate, and amazing pictograms and astonishes the audience with the prospect that these actually may be extraterrestrial communications which we have been steadfastly taught to ignore and disregard. Disinformation propaganda through tricksters-hoaxer-croppies has successfully dissuaded most serious-minded scientists, academics, and laypersons from taking any of this seriously. Dr. Kroth does takes it seriously. The results are absolutely mind-boggling. This part of his talk comes from his 2019 book, Messages from the gods: a scientific exposition on the extraterrestrial origin of crop circles where over 40 mysterious crop circles are decoded with the aid and assistance of more than 20 scientists from Israel to Japan.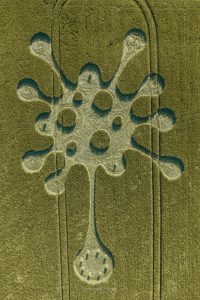 The Covid-19 Crop Circle
Prof Jerry Kroth attempts to decode a crop circles that has relevance to Covid-19. He consults with a biologist, microbiologist, and virologist and a pharmacologist in these detailed analysis. The crop circle appears to show the virus at magnification of 12 million and features an enlarged spike protein magnified even 100x greater than that. The elongated spike protein displays either 8 amino acids or a peptide which microbiologists refer to as "Sp8" in the scientific literature. This is a spike protein found in SARS which has an unusual positive immunological function, and it may have that function in Covid-19 as well. In other words the crop circle appears to be proactively suggesting remedies and appears one step ahead of contemporary science. . . This may be an extraterrestrial communication, although that it may have been created by human circle makers is also discussed. Prof. Kroth has made this white paper available for other crop circle scholars (and intrepid scientists) in hopes they will further decode this amazing structure and expand the knowledge base while this global pandemic is raging.
Dr. Kroth will also present two other crop circle "messages" dealing with nuclear accidents and extraterrestrial warnings about human fertility.
His talk about the Covid crop circles is supported by a short book which includes all the science cited. It may be obtained from Amazon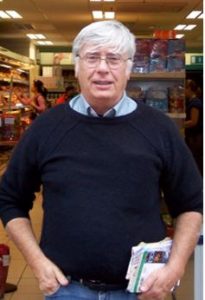 Professor Dr. Jerry Kroth Ph.D.
Jerry Kroth is an Associate Professor in the graduate counseling psychology program at Santa Clara University. He teaches psychotherapy and personality theory, dreamwork, and research methods. He has an abiding therapeutic interest in working with dreams, personal oracles, and the applications of dream theory to psychohistory. Dr. Kroth has been a member of the International Psychohistorical Association since 1983.
Dr. Kroth's seventeen prior books were in the areas of counseling, psychology, child sexual abuse, learning disorders, metapsychology, transpersonal psychology and research methodology. In addition, he has written and presented over 75 papers on anxiety, child development, mass psychology, synchronicity, experimental studies of the dream process, the psychology of propaganda and collective psychology. Professor Kroth lives in California with his wife and two daughters. His most recent books are listed below:
– The psychic immune system: a hidden epiphenomenon of the physical immune system. Lexington Books, 2015
– The Roswell Foil: how UFO discoveries radically change our understanding of the world, Genotype, 2021
– Conspiracy in Camelot: the complete history of the assassination of John Fitzgerald Kennedy (N.Y: Algora, 2003)
– Psyche's Exile: an empirical odyssey in search of the soul. (Libre Digital, 2008)
– The Lindbergh kidnapping: mobs, mass psychology, and myth. (Genotype)
Programme (CET, Central European Time, Amsterdam)
7.40 pm CET: zoom meeting opens
8.00 pm CET: start
9.30 pm CET: questions
10.00 pm CET: zoom meeting ends
Registration
If you want to attend this on-line lecture, send us an e-mail at info@skyhighcreations.nl entitled "Jerry Kroth". Transfer € 15,– pp to NL78 ABNA 0467074526 to R.J. Beljon (BIC Code: ABNANL2A). After payment we send you the link to the zoom meeting in due time (usually a day prior to the lecture). You can log on from 20 minutes before the lecture starts. If you don't have zoom installed just yet, this link will automatically install it for you. If you have never used zoom before, install it well before the lecture and log on early. If you run into trouble call us at +31 (0) 6 54752559.
Payment from outside The Netherlands
To receive payment from abroad, we use paypal. Send an e-mail to info@skyhighcreations.nl and we will send you a Paypal invoice.
Newsletter

If you want to receive our Dutch newsletter, please subscribe here:
nieuwsbrief
.
Or give us a call: +31 (0) 6 54 752 559.