Nights of Crop Circling, The Long Versions, featuring Simon Miles
For the past 6 years, we have been doing "A Night of Crop Circling" in the middle of the crop cirlcle season. Every time we had 6 speakers that could do a talk of just 20 minutes. Now, in these dark times we decided to lighten life up a bit by giving these speakers the chance to do a full lecture. Crop Circles are a welcome distraction from the madness of the world we live in. A few years back Simon Miles gave a mindblowing talk on the crop circles surrounding Barbury Castle in just 20 minutes. Now he has a whole evening for his lecture, prepare to be blown away.
Crop Circles, 30 years on
This year is the 30th anniversary of the appearance of the 1991 Barbury Castle crop circle, an event which marked a major turning point in the evolution of the phenomena. In this talk, Simon Miles takes a deep-dive into circle lore, with a particular focus on the extraordinary circumstances surrounding this seminal design. His unique analysis of the
Barbury Castle glyph shows that it was part of a fascinating sequence of closely-related circles extending over decades, a result with far-reaching implications for understanding the origins and purpose of the mystery. Including materials never before shared in public, this presentation will change the way you view the topic no matter what your perspective. Guaranteed to be controversial, thought-provoking and entertaining, this is a talk not to be missed.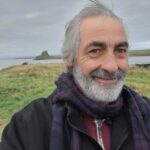 Simon Miles
Simon Miles is an independent researcher and writer living in the UK. He has been observing the crop circle phenomenon for more than 30 years. His debut giving lectures about crop circles was at the Bases Conference in 2015 in Marlborough Wiltshire UK. This talk featuring several crop circles that appeared around Barbury Castle was utterly amazing. In 2016 Simon gave a short version of this talk at our Night of Crop Circling in Alton Barnes. The audience was blown away.
Programme (CET, Central European Time, Amsterdam)
7.40 pm CET: zoom meeting opens
8.00 pm CET: start
9.30 pm CET: questions
10.00 pm CET: zoom meeting ends
Registration
If you want to attend this on-line lecture, send us an e-mail at info@skyhighcreations.nl entitled "Simon Miles". Transfer € 15,– pp to NL78 ABNA 0467074526 to R.J. Beljon (BIC Code: ABNANL2A). After payment we send you the link to the zoom meeting in due time (usually a day prior to the lecture). You can log on from 20 minutes before the lecture starts. If you don't have zoom installed just yet, this link will automatically install it for you. If you have never used zoom before, install it well before the lecture and log on early. If you run into trouble call us at +31 (0) 6 54752559.
Payment from outside The Netherlands
To receive payment from abroad, we use paypal. Send an e-mail to info@skyhighcreations.nl and we will send you a Paypal invoice.
Newsletter

If you want to receive our Dutch newsletter, please subscribe here:
nieuwsbrief
.
If you want to be on the international mailing-list, send an email to info@skyhighcreations.nl
Or give us a call: +31 (0) 6 54 752 559.