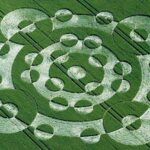 Reconciling the circle and square is an ancient philosophical conundrum that has intrigued geometers since ancient times. It is a rich journey for anyone to undertake. In this talk Geoff will explore how the expression "squaring the circle" is sometimes used as a metaphor for trying to do the impossible. This does not stop us attempting to approximate it though, because the desire to reconcile square and circle & heaven and earth, is part of the human soul's quest for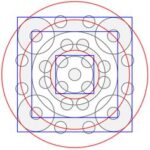 meaning.
Squaring the circle is a recurring theme in the geometry of crop circles since their very origin. Over and over the circles teach us new and inventive ways to reconcile the square and the circle.
He will discuss why a mathematically perfect squaring of the circle was proven impossible based on the proof that π is transcendental and is in itself similar in spirit to squaring the circle. Explore how the study of the transcendental qualities of π invites you beyond ordinary or common experience, thought and belief.
Discover how squaring the circle exists beyond the bounds of the rational, yet carries within it a transpersonal sacred quality.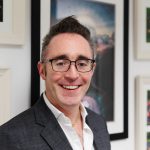 Geoff Fitzpatrick
Geoff Fitzpatrick was introduced to mandalas whilst studying the pioneering work of Carl G. Jung and has spent the past 15 years exploring the intersection of geometry, spirituality and psychology through these symbols. Working with mandalas has opened Geoff to the profound power geometry possesses to influence states of consciousness. The construction of sacred sand mandalas during Geoff's Mandalanature sessions opens people to a deeper aspect of themselves by blending creativity, geometry and mindfulness in a unique and special way. In addition to his studies at Trinity College and the Milltown Institute, Geoff has trained with Dr. Stanislav Grof MD learning a psychotherapeutic technique called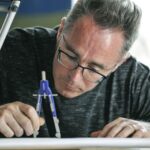 Holotropic Breathwork. Dr. Grof's cartography of the psyche informs the Manalanature model entirely. Geoff is also a regular visitor to the crop circles, to experience their spaces and contemplate their geometries. Geoff combines his love of Mandalas, consciousness and the circles to form a unique view of this phenomenon.
More info about Geoff and his sacred geometry workshops can be found at: https://sacredgeometryacademy.com/ and:
https://temporarytemples.co.uk/event/cropcircleexplorers-2
Programme (CET, Central European Time, Amsterdam)
7.40 pm CET: zoom meeting opens
8.00 pm CET: start
9.30 pm CET: questions
10.00 pm CET: zoom meeting ends (End time is just an indication)
Registration
If you want to attend this on-line lecture, send us an e-mail at info@skyhighcreations.nl entitled "Squaring the Circle". Transfer € 15,– pp to NL78 ABNA 0467074526 to R.J. Beljon (BIC Code: ABNANL2A). After payment we send you the link to the zoom meeting in due time (usually a day prior to the lecture). You can log on from 20 minutes before the lecture starts. If you don't have zoom installed just yet, this link will automatically install it for you. If you have never used zoom before, install it well before the lecture and log on early. If you run into trouble call us at +31 (0) 6 54752559.
Payment from outside The Netherlands
To receive payment from abroad, we use paypal. Send an e-mail to info@skyhighcreations.nl and we will send you a Paypal invoice.
Newsletter

If you want to receive our Dutch newsletter, please subscribe here:
nieuwsbrief
.
If you want to be on the international mailing-list, send an email to info@skyhighcreations.nl
Or give us a call: +31 (0) 6 54 752 559.